Get
Answers

To Your Questions About Rabbit TV
Exclusive Offer
Get
Answers

To Your Questions About Rabbit TV

Rabbit TV Customer Support

Have you already received your Rabbit TV and have questions on how to use your device? Go to www.RabbitTVSupport.com to learn more about installing your Rabbit TV, system requirements, getting started and more. You can also utilize the Live Support Chat for immediate assistance. www.rabbittvsupport.com
---
Do I need a verification code if I purchased my Rabbit TV in retail?
There answer is no. If you have purchased your Rabbit TV USB in a retail store or catalog, your Rabbit TV does not require that you enter a verification code to begin using. Your Rabbit TV already comes with a 1 year subscription to our service. Only customers who have purchased online or by phone will need to enter this code.
---
What is Rabbit TV?
Rabbit TV is a USB system that organizes a huge amount of high-quality content into a simple, easy-to-use interface that connects you with the entertainment you want in the fastest way possible. Rabbit TV links to over 25,000 full episodes from most popular networks, like ABC, NBC, Fox, History, MTV, Discovery, and many more. Rabbit TV also links to thousands of FREE Movies from around the world, along with Live Sports Streams from every major sport, as well as Live & On-Demand News Broadcasts. Rabbit TV even has a selection of Live Scheduled TV Channels, as well as thousands of radio station programs.
---
Can I hook Rabbit TV up to my smart TV or gaming system?
For the time being, Rabbit TV only works with Windows and Mac operating systems on computers and laptops. If your computer and television have the proper input/output connections and you are able to connect your computer to your TV through a cable, (HDMI, DVI, VGA, etc.), you will be able to watch Rabbit TV on your television. However, we are currently working on apps/compatible software for other systems (i.e. mobile, gaming, smart TVs, etc.) that we'll be releasing later this year.
---
Are there any monthly fees?
There are no monthly fees with Rabbit TV. Rabbit TV only costs $10, and if you want to keep using it after a year, it's $10 a year from then on. If you don't want to continue your Rabbit TV subscription, you can cancel at any time - no hoops to jump through, no hidden fees, no tricks.
---
Is Rabbit TV a software that has to be downloaded or installed on my computer?
The USB only acts as a key to the Rabbit TV Guide. It does not install any software, but rather ensures that the user is a Rabbit TV member before granting him or her access to Rabbit TV.
---
What TV Entertainment Does Rabbit TV Provide?
In total, there are currently somewhere around 5000 channels available through the TV section of Rabbit TV, including over 25,000 full episodes from popular and classic TV series available on-demand 24/7. Rabbit TV is constantly adding new channels, episodes and other video content, so these numbers grow on a daily basis. These include the following and so much more:
Current and Classic TV Shows
Original Web Series
Worldwide TV Channels and Video Sites
Local US TV Channels and Video Sites
Sports Video Sites
News Stations and Video Sites
Tech Video Libraries
Children's Programming
---
What Movie Entertainment Does Rabbit TV Provide?
The Rabbit TV Movies section links you to a variety of free movie libraries (nearly 100 in total), connecting Rabbit TV users to thousands of free movies in total. Rabbit TV also has a "Pay Per View Movies" section, where Rabbit TV users can stream the latest box office hits in seconds. Most premium movies are available for as low as $1.99 per rental. The Rabbit TV Movies section is broken down into sub-sections based on genres, including the following genres and many more:
Popular
Foreign/Independent
Sci-fi
Horror
Documentaries
Classics
Seasonal
Midnight Movies
Pay-Per-View
---
I ordered my Rabbit TV and it said shipping will take 3-6 weeks. Why so long?
Shipping MAY take 3-6 weeks. Throughout different times of the year demand is greater than others, so we always state 3-6 weeks. However, we always do our best to plan for those times of the year so we can avoid "back orders."
---
Help! I placed an incorrect order. How can I change this?
What you want to do is call this toll free number for customer service: 1-855-235-2084. To find your order they will need your phone number (or email address if you provided it), last name, and zip code. They will absolutely get your order fixed for you. Keep in mind order processing takes a full 24 hours, so they may not have your order in the customer service system until at least 24 hours after you've placed your order.
---
I ordered Rabbit TV, but I haven't been charged yet. When should I expect to be charged?
We process your order within 24 hours, but we do not charge your card for the purchase until the order is shipped to your address.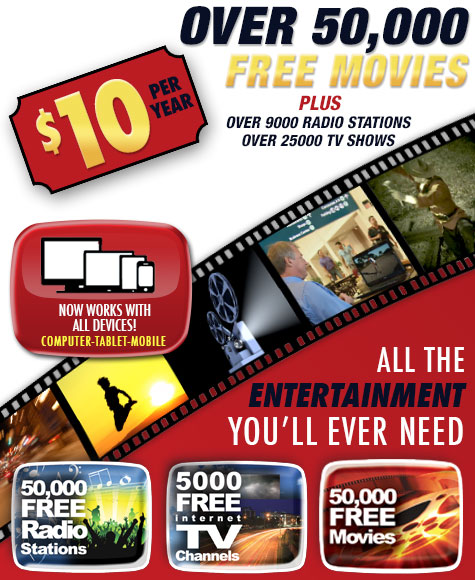 Order Rabbit TV for just $10 + $6.99 Shipping & Handling and receive a second Rabbit TV for just $6.99 plus no added shipping and handling. Annual License Fee for Device Renews Automatically Unless Canceled.
Or Call 1-800-764-9006
Order Rabbit TV
Order Rabbit TV for just $10 + $6.99 Shipping & Handling and receive a second Rabbit TV for just $6.99 plus no added shipping and handling. Annual License Fee for Device Renews Automatically Unless Canceled.

This special Rabbit TV offer is not available in stores so the only way to get it is to place your order now!

**Please allow up to 3-6 weeks for delivery of your order.

New Jersey and California residents, sales tax applies.

Please Note: An additional $10 shipping surcharge is added for items sent outside the Continental United States.